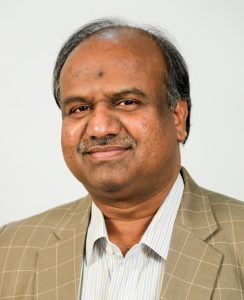 Dr. P. Ravinder Reddy
Principal
CBIT has the Pride of Place amongst the Private Engineering Colleges in India and competes with the University Colleges in all facets of Education and Students achievements. I am honored and delighted to be the Principal, while the Institute is Celebrating its 42 Years of successful journey and feel privileged to Welcome the Students as the Stake Holders who will uphold the Banner of CBIT high and continue to sustain the Excellence and the Premier Status of the Institute.
The Four two Years of nurturing of Engineering Knowledge at the Institute by the expert Faculty, I assure, you will evolve as a well-rounded Engineer equipped with Skills to face the Industry 4.0 Challenges and the dynamic disruption that is being experienced in every Industry.
To address these needs, we have enabled a newer structure that facilitates Creative Thinking through greater freedom to Learn, Experiment and Innovate while keeping the fundamentals of National Education Policy through Curriculum Architecture, Pedagogical excellence and Credits for Innovative and Creative thinking as a part of evaluation. We feel it is time for us to "Reinvent" and encourage Students to align them to Creative Thinking.

We have established Start-Ups and Incubation Ecosystem to support Ideation and implementation under the guidance of Faculty who are experienced and known Thought Leaders in their Fields of Engineering and Management.
Sports Encouragement, Clubs Membership, Personality Development initiatives and many other Co and Extra Curricular Engagements are the Hall Mark of CBIT and these have been the Forums for experiential Learning for Students.

Internships, Collaborative Research and Consultancy with Industry, Institutions and Universities provide an opportunity to Students to work with the Faculty and Publish in National and International Journals which will add to their Profile.

While you will be introduced to the Academic State-of-the-Art Infrastructure at the Campus in detail, I Welcome You all and Wish a Memorable Studentship and hope you will bring laurels to the Institute through your achievements.